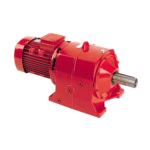 A gearmotor is a combination of an electric motor with attached gear transmission box.
This combination makes it possible to reduce or to increase the output speed of the motor.
There are different types of gearboxes like the helical gearmotor, planetary gearmotor and worm gearmotor.
Insula Works supply all types of gearmotors, we can help you in selecting the right one to be sure the right gearmotor will be applied.
If you would like us to prepare a competitive quote on gearmotors, please contact our sales team.